Monday, 10 January 2022
Maggi Bradley crowned Practice Nurse of the Year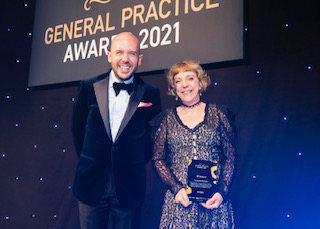 There were further celebrations for our Sefton Training Hub in December as team member Maggi Bradley was announced as Practice Nurse of the Year at the annual 13th Annual General Practice Awards in London.
Maggi, who primarily works as a Practice Nurse at Aughton Surgery in West Lancashire, won the award for her development of groundbreaking video group clinics which she launched at the start of the pandemic in 2020. Her idea ensured patients with chronic health conditions could receive the same high-quality care and peer support without meeting face-to-face, a model which has since been adapted for use by nurses up and down the country.
Speaking about winning the award, she said: "When it happened, it was a bit surreal. They say your name, and I remember looking at my husband and thinking oh my god that's me.
"I'm pleased for the practice nursing community in general and the resilience that we have shown through the pandemic. Practice nurses have a very important role to play – and we are still doing it."
A huge congratulations to Maggi and everyone involved in the project.